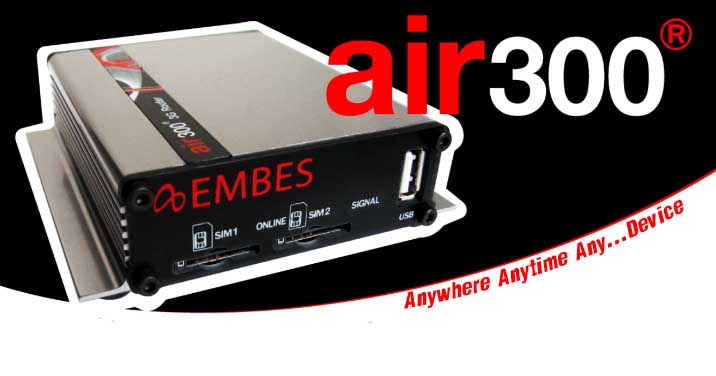 The air300® is a cost optimized model of industrial grade 3G HSPA/UMTS Wireless WAN cellular routers, gateways and VPN appliances that provide secure high-speed wireless communication to any devices and remote sites. air300® can be used for reliable primary wireless WAN network communication to equipment at remote sites, as well as a backup for existing landline communications. They are also ideally to be used where wired networks (e.g. leased line, frame relay, MPLS, ADSL, ISDN) are not available, or where alternative network communications are required.
          air300® platform are able to provide a primary Wireless WAN communication to the remote sites using the Ethernet and/or serial devices which protocols TCP/IP, ISO8583 (EDC application) and Modbus are provided, in addition, protocols also can be customized. This platform is flexible designed that can be integrated into the wide range of applications such as ATM Machine, EDC Terminal, Data Logger, Data Transferring between Headquarter and Branch, Retail/POS sites, new construction locations, temporary office. Its industrial design and Embedded System with low power consumption enhance you to use in the extreme environments.
For backup TCP/IP network, just integrate air300 into the remote sites network with existing router. This solution provides a truly diverse network communication for increased the network performance that require maximum uptime such as EDC application.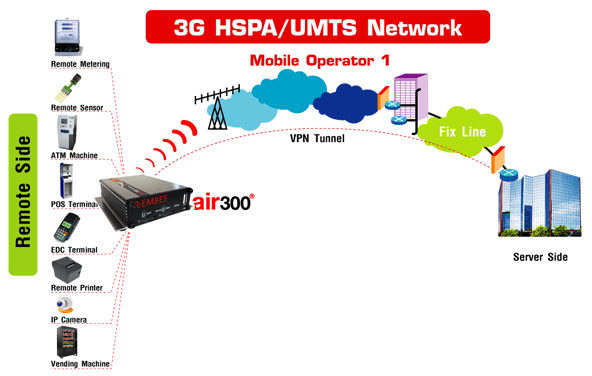 CPU 32-Bit RISC Architecture
1 x Ethernet 10/100
1 x USB 2.0 port
2 x PUSH SIM Socket
1 x Serial Port
LED Status

Power / SIM Online
SIM Status
Signal Strength

Real Time Clock
Hardware Watchdog
50 Ohm SMA Connector
Standard Antenna 2 dBi gain (optional :High Gain Dipole 14 dBi)
Operation Temperature -25°C to +70°C
Storage Temperature -45°C to +85 °C
Relative Humidity 5% to 95% (non-condensing)
AC Adapter 5V 3A
Dimension (WxDxH) 105x100x28 mm.
Weight 300 g.
air300H850
3G : HSPA 850/1900/2100 MHz
air300H900
air300C800
Software Feature and Protocol Support
DHCP
NAT Static and Dynamic
TCP Port Forwarding
Dynamic Routing : RIPv2, OSPF
Tunnel : IPIP, GRE (10 Tunnel Included), GRE keepalive, L2TP Compression
IPSec : AES, 3DES
Management and Configuration
SNMP V1, V2
Web based
SMS Reset
Wireless Carrier Specification and Certification
3G HSPA
Triple-Band HSPA/UMTS(WCDMA) 850/1900/2100 MHz or Dual Band HSPA/UMTS(WCDMA) 900/2100 MHz
HSUPA download up to 7.2 Mbps, upload up to 5.76 Mbps
HSDPA download up to 3.6 Mbps,upload up to 384 Kbps
UTMS download and upload up to 384 Kbps

GSM GPRS/EDGE

Quad band 850/900/1800/1900 MHz
EDGE Class 12 Throughput up to 240 kbps
GPRS Class 12 Throughput up to 80 kbps
3G CDMA2000
CDMA2000 1xEV-DO Rev.A download up to 3.1 Mbps / upload up to 1.8 Mbps
CDMA2000 1xEV-DO Rev.O download up to 2.4 Mbps / upload up to 153.6 Mbps
CDMA2000 1xRTT download and upload up to 153.6 kbps